When Green Leaf finally opened, Mike's efforts were rewarded with 2 grams of legally purchased Sour Kush, and as it turned out, losing his job — after some narc client who saw him on the news went and snitched to his boss. In a real Gift of the Magi situation, now Mike has the legal ability to buy weed, but no job to pay for it. Still, he's not going to let that get him down:

"Yeah, it was kind of a buzzkill," he says. "But I wasn't going to let it ruin an awesome day."
Update:
HE GOT HIS JOB BACK!!!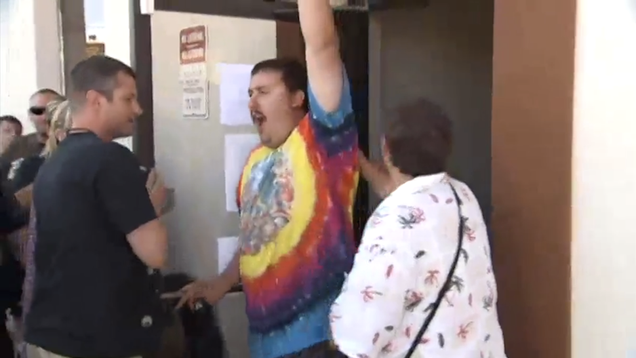 "TrueBlue got ahold of me and offered me my job back," Mike told Newsweek. "I'll accept it and we'll see where it goes from there," he said. "The reason they said they gave me my job back was because their policy says you cannot be under the influence at work, which I was not, and since I officially had the day off, what I did on my time was my time. And they gave me my job back, and even gave me a day's worth of pay that I missed."
However, now Mike's thinking about trying to move over into the "marijuana industry."
Now, I'm thinking maybe I can even spin this and get a job in the marijuana industry. It's a new industry. They need qualified people.